Birth
25 Apr 1888
Romsey, Hampshire, England "GRO District"2,3
Hatt Hill, Mottisfont, Hants, SO51 0LH
Census
5 Apr 1891 (age 2)
Romsey, Hampshire, England "GRO District"3,4
Hatt Hill, Mottisfont, Hants, SO51 0LH
Census
31 Mar 1901 (age 12)
South Stoneham, Hampshire, England "GRO District"5
182, High Street, Bishopstoke, Eastleigh, Hants, SO50 5LW
Census
2 Apr 1911 (age 22)
South Stoneham, Hampshire, England "GRO District"6
162, Southampton Road, Bishopstoke, Eastleigh, Hants, SO50 5QX
Communication
28 Apr 1916 (age 28)
brother Mat & sister-in-law Florrie; Winchester, Hampshire, England "GRO District"7,8
Treforest, North End Road, Chandler's Ford, Eastleigh, Hants, SO53 3AX
Will Legacy
22 Aug 1930 (age 42)
father Henry; Winchester, Hampshire, England "GRO District"8,9
Treforest, North End Road, Chandler's Ford, Eastleigh, Hants, SO53 3AX
Child Count
0
Death
Q1 1955 (age 64)
Basingstoke, Hampshire, England "GRO District"

Unmarried
Q2 1948
FindMyPast
Questionable
Index 274: TATE, Bertha
61
Oldham
10f 97
Q1 1955
GRO Index & FreeBMD
Matches Probate
Index 441: TATE, Bertha Mary
64
Basingstoke
6b 121
Also
Q4 1955
GRO Index Halifax age 70
Unlikely

Probate
Apr 1955
Winchester, Hampshire, England10
"White' Brooks & Gilman"' Lloyds Bank Chambers, 2 / 4, Leigh Road, Bishopstoke, Eastleigh, Hants, SO50 9FH (now Knight Polson)

Source: TATE, Bertha Mary 1888 Birth, TATE, Bertha Mary 1888-04-25 Birth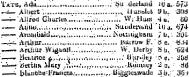 Source: TATE, Bertha Mary 1888 Birth, TATE, Bertha Mary 1888 Q2 Birth FreeBMD
7
May Tate, TATE, Bertha Mary 1916 Letter.

Text From Source:
Treforest
Chandlersford
Hants
28 - 4 - 16
Dear Mat and Florrie,
At last I am answering your letter, so sorry I have not done so before. We were very glad to get your letter and to know that Baby is so much better, let us hope he has seen the last of his illness poor little chap. It was very kind of you to send the peas, also the potatoes, which we received yesterday. Father said I was to thank you very much for them. The peas are planted so they will be ready by the time your holidays (How's that Fred? You like peas don't you.) Glad to say that Mother is well, she was very pleased with the poultry book and flowers, by the way, what kind are they.
When do you think of having your holidays, it quite cheered Mother up to know you were coming this time. Perhaps I shall be home then as they are moving our Headquarters to Worthy Down and they want me to join the "Mobile Section" of the R.A.F. that means signing for four years or duration of war, and I shall be liable to be sent to France.
Otherwise it's a good job and they have promised to remuster me as "Telephonist Clerk" if I will stay. That means 38/- a week and uniform, but I don't think Mother really likes me to sign and I don't know that I'm particularly keen to go to the Front. The fact is I don't really know what to do, what do you think.
I saw Florrie Grey on Sat, but not to speak to, she is very altered, looks quite a middle aged woman, enough to make his too poor girl, Eastleigh isn't a bit like it used to be. Mabel Pristnall was buried last Saturday. Rather a lively sort of a letter this but perhaps I shall have something more exciting by the next time I write.
Must close now with love to all from us all.
From,
Yours affectionately,
Mary

District: Winchester.
Cit. Date: 28 April 1916.

9
Henry Tate, TATE, Henry 1930 Will.

Text From Source:
This is the last Will and Testament of me Henry Tate of Treforest Chandlers Ford in the County of Southampton Retired Railway Foreman.
I Hereby revoke all former Wills made by me. I appoint my Sons Henry Tate and William James Tate Executors and Trustees of this my Will.
I direct my said Trustees to sell and convert into money my house known as Treforest Chandlers Ford and out of the clear moneys to arise from such sale my Trustees shall pay or provide for my debts, funeral and testamentary expenses and pay off the mortgage on my houses numbered 160, 162, and 164 Southampton Road, Eastleigh the residue of such clear monies to be equally divided between my seven children Henry Tate, William James Tate, Robert Heathcote Tate, Norman Tate, Matthew John Thomas Tate, Melcham Bernard Tate and Bertha Mary Tate. And as to all the rest residue and remainder of my estate whatsoever and wheresoever I Give and Devise the same to my said Trustees Upon trust to stand possessed thereof and to pay the income to arise therefrom unto my Daughter Bertha Mary Tate for and during her life or until her marriage. And upon the death or marriage of my said Daughter to realise the whole of such residue and pay and divide the proceeds thereof unto and equally between such of my said children as shall then be living, the child or children of any deceased child of mine to take his, her, or their parents share, and if more than one in equal proportions on attaining the age of Twenty one years.
In Witness whereof I have to this my Last Will and Testament set my hand this Twenty second day of August One thousand nine hundred and thirty.
Signed by the said Henry Tate the Testator as his last Will and Testament in the presence of us both present at the same time who in his presence at his request and in the presence of each other have hereunto subscribed our names as witnesses:-
William James Cor, Rating & Valuation Officer, 21 Ruskin Road, Eastleigh
Harold Herbert Ball, Collector, 45 Chamberlayne Road, Eastleigh

District:
Winchester
Handwritten Copy.

Cit. Date: 22 August 1930.