Birth
5 Jul 1882
West Ham, Essex, England "GRO District"1,2,3
130, Chandos Road, Stratford, London, E15 1TU
Census
5 Apr 1891 (age 8)
West Ham, Essex, England "GRO District"4,5
159, Major Road, Stratford, London, E15 1DY
Occupation
5 Apr 1891 (age 8)
Scholar; West Ham, Essex, England "GRO District"4
Census
31 Mar 1901 (age 18)
West Ham, Essex, England "GRO District"5,6
159, Major Road, Stratford, London, E15 1DY
Occupation
31 Mar 1901 (age 18)
Milliner; West Ham, Essex, England "GRO District"6
Employer, Worker, or Own account: Worker
Census
2 Apr 1911 (age 27)
West Ham, Essex, England "GRO District"7,8
173, Boleyn Road, Forest Gate, London, E7 9QH
Death Informed
13 Jun 1912 (age 29)
mother Harriett; West Ham, Essex, England "GRO District"8,9
173, Boleyn Road, Forest Gate, London, E7 9QH
Occupation
frm 1913 to 1950 (age 30-68)
Housewife; West Ham, Essex, England "GRO District"10
38, Hall Road, East Ham, London, E6 2NQ
Correspondence
28 Apr 1916 (age 33)
sister-in-law May TATE; Winchester, Hampshire, England "GRO District"11,12
Treforest, North End Road, Chandler's Ford, Eastleigh, Hants, SO53 3AX
Census
29 Sep 1939 (age 57)
East Ham, Essex, England "GRO District"3
38, Hall Road, East Ham, London, E6 2NQ
Occupation
29 Sep 1939 (age 57)
Domestic Duties Unpaid; East Ham, Essex, England "GRO District"3
Death
19 Sep 1964 (age 82)
East Ham, Essex, England "GRO District"10,13
Cause: Myocardial Degeneration of Heart & Senility
Address: 38, Hall Road, East Ham, London, E6 2NQ
Probate
23 Oct 1964
East Ham, Essex, England "GRO District"14
Probate Division of the High Court of Justice
Died intestate
Spouse
Matthew John Thomas TATE (1882-1967)
Children
Frederick TATE (1913-1972)
Bernard TATE (1914-1993)
Donald TATE (1919-1998)
Co-residence
to 7 Oct 1912 (age 30)
her parents home; Shoreditch, Middlesex, England15
228, Hoxton Street, Hoxton, Shoreditch, Middlesex/London, N1
Marriage
7 Oct 1912 (age 30)
Shoreditch, Middlesex, England15,16
St.Andrews Church, Hoxton, Shoreditch, Middlesex/London, N1
Co-residence
frm Oct 1912 (age 30)
their lives; West Ham, Essex, England "GRO District"10
38, Hall Road, East Ham, London, E6 2NQ
11
May Tate, TATE, Bertha Mary 1916 Letter.

Text From Source:
Treforest
Chandlersford
Hants
28 - 4 - 16
Dear Mat and Florrie,
At last I am answering your letter, so sorry I have not done so before. We were very glad to get your letter and to know that Baby is so much better, let us hope he has seen the last of his illness poor little chap. It was very kind of you to send the peas, also the potatoes, which we received yesterday. Father said I was to thank you very much for them. The peas are planted so they will be ready by the time your holidays (How's that Fred? You like peas don't you.) Glad to say that Mother is well, she was very pleased with the poultry book and flowers, by the way, what kind are they.
When do you think of having your holidays, it quite cheered Mother up to know you were coming this time. Perhaps I shall be home then as they are moving our Headquarters to Worthy Down and they want me to join the "Mobile Section" of the R.A.F. that means signing for four years or duration of war, and I shall be liable to be sent to France.
Otherwise it's a good job and they have promised to remuster me as "Telephonist Clerk" if I will stay. That means 38/- a week and uniform, but I don't think Mother really likes me to sign and I don't know that I'm particularly keen to go to the Front. The fact is I don't really know what to do, what do you think.
I saw Florrie Grey on Sat, but not to speak to, she is very altered, looks quite a middle aged woman, enough to make his too poor girl, Eastleigh isn't a bit like it used to be. Mabel Pristnall was buried last Saturday. Rather a lively sort of a letter this but perhaps I shall have something more exciting by the next time I write.
Must close now with love to all from us all.
From,
Yours affectionately,
Mary

District: Winchester.
Cit. Date: 28 April 1916.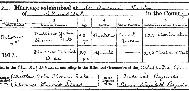 Source: TATE, Matthew John Thomas & DODD, Florence Harriet 1912 Marriage, TATE, Matthew John Thomas 1912-10-07 Marriage

Source: TATE, Matthew John Thomas & DODD, Florence Harriet 1912 Marriage, TATE, Matthew John Thomas 1912 Q4 Marr FreeBMD

Source: TATE, Matthew John Thomas & DODD, Florence Harriet 1912 Marriage, DODD, Florence Harriet 1912 Q4 Marr FreeBMD
16
Florence Harriet Tate, TATE nee DODD, Florence Harriet 1938-1948 Notebook.

Text From Source:
Mrs F.H.Tate 38, Hall Road, East Ham E6
Mr Byford 26 Warrendu Avenue, Hornchurch
"Dear Jock" put to sleep Jan 15th 1938 aged 15 yrs
Bern's Certificates
No 61.78.710
Bern's Post Office
No 54485
Don's Certificates
No LC 30930
Don's Penny Bank
No 3.2.4 88
F.H.Tate Post office
No 55953
F.H.Tate Pension
No 31527789
Mr G A Hobbs 489, Southend Road, Hornchurch, Essex
Had "ZIP" 17th Sept 1940
also Don examined at Romford
Bern joined 7th Nov 1940
Don joined 25th Nov 1940
Don & Vera first visit after married, ended Aug 25th 1941 5 days
Bern returned Aug 26th 1941
Don & Vera home again Oct 25th 41 returned Oct 31st 1941
[log of subsequent home visits of Bern and Don & Vera 1941-1945]
Mr Wright called Aug 7th 1946
Bern went into hospital Aug 16th 1946
Addresses
Uncle Bob
108 Desborough Road, Eastleigh, Hants
Uncle Bill
64 Southampton Road, Eastleigh, Hants
Mr Hackett
61 Coombe Park Road, Teignmouth, Devon
Mrs Sheppard
577 Charminster Road, Bournemouth, Hants
Milly
15 Melton Road, West Bridgeford, Notts
Gladys
97 Melton Road, West Bridgeford, Notts
Fred & Dolly
33 Cedar Drive, Upminster, Essex
Don & Vera
144 Rosebery Drive, Manor Park
Mrs Spedding
103 Sandhurst Drive,Ilford
Don & Vera
150 Victoria Road, St Baudax, Plymouth, Devon
Dolly & Fred
239 Aragon Road, Mordon Park, Surrey
First visit to Dr Easton Feb 18th 1939
High blood pressure & heart trouble [56 years of age died aged 82]
Visits to Salisbury & Romsey Abbey 16/8/36 also Wells Cathedral 23/8/36
Birthdays
Dad
August 13th 1882
Mum
July 5th 1882
Fred
March 30th 1913
Bernard
May 9th 1914
Don
Dec 3rd 1919
George
June 5th 1869
Ethel
March 6th 1934
24 yrs
Arthur
Oct 7th 1933
21 yrs
Peggy
Oct 7th 1933
14 yrs
Gladys
14th Aug
Milly
10th May
Vera
24th July 1941
20
Dolly
10th Nov 1941
28
Roy Frederick
Aug 29th 1942
Roger Donald
Oct 3rd 1942
Lesley Ebeth
Jan 29th 1946
Ethel
Aug 24th 1946
26
Aunty Flower
Oct 16th 1947
56
Aunty Maggie
May 20th 1948
66
George's age
1926
57
Dad's age
1926
44
Annie     died
9th Feb 1926
age 57 yrs
Fred     died
1st June 1926
age 62 yrs
Jim     died
2nd Dec 1926
age 63 yrs
Mum     died
13th June 1912
age 71 yrs
Aunty Austin
31st Dec 1924
age 47 yrs
Jennie Willis
age 61 yrs
Auntie Evans  died
July 16th 1933
age 79 yrs
Mr Lockyer     died
June 23rd 1935
29 Hall Road
Granma Tate   died
March 10th 1929
aged 82
Grandad Tate  died
April 2nd 1938
aged 93
Mrs Lockyer
Jan 1941
Uncle Bob     died
Jan 4th 1944
Uncle Flower
April 11th 1946
George     died
March 9th 1941
Uncle Flower's son
29th Dec 1946